We offer a product that uses a unique application of proven technology. This Clean Power System provides your home or business with the electrical power conditioning capabilities previously available only to the largest facilities and installations.

The System is easy to install (by a licensed electrician*) and provides immediate benefits for the user. In one cost-effective and maintenance-free package, it provides Power Factor Correction, Surge and Spike Suppression, and Noise Reduction.

Whole House Energy Management System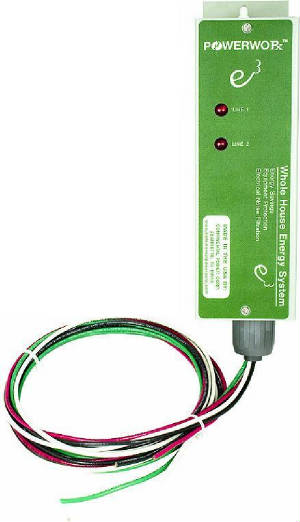 SAVE up to 22% on your home electric bill!
Also, available for business!


Is the Power WORXe3 Right for Your Home?

This technology will work in any home with a circuit breaker panel. Answer "Yes" to
two or more of the following questions and you could be saving a significant amount
of money on your electric bill right now!

-Is your home over 2,500 square feet?
-Is your central air conditioner/heat pump unit 3 or more years old?
-Is your forced air furnace 3 or more years old?
-Do you have a pool?
-Do you have a well?
-Do you use an air conditioner?
-Is your refrigerator not Energy Star rated?
-Do you have more than one refrigerator/freezer?
-Is your washer/dryer not Energy Star rated?
-Do you have a hot tub or jetted tub?
-Is your dishwasher not Energy Star?
-Do you have a number of appliances?



Customer Comment:
We noticed a big difference right away. Our new TVs and computers are performing better, our phones are clearer, and our electric bills are going down. Plus, it's nice to know your're doing something good for the environment.